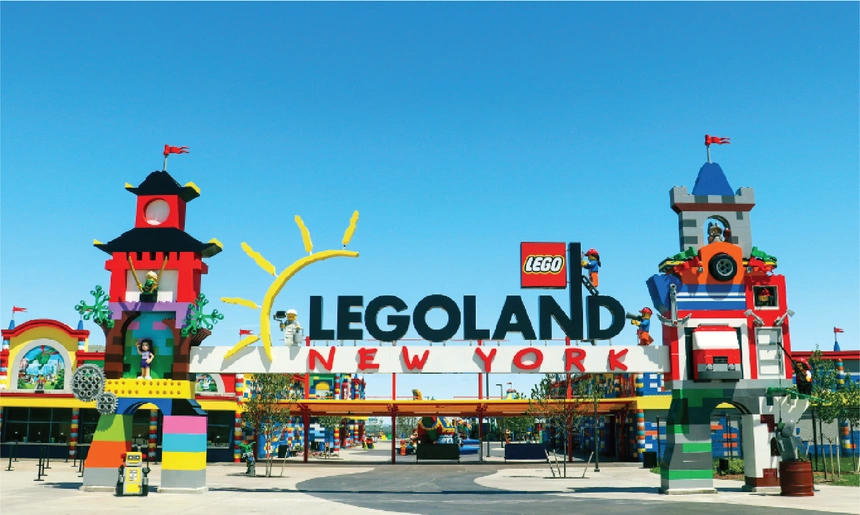 LEGOLAND® New York Resort opened July 2021 in the Hudson Valley town of Goshen, Orange County, NY, just 60 miles northwest of New York City. If you're searching for places to stay near LEGOLAND®®, look no further! Our New York campground is located only 45 minutes away from the theme park, making our Camp-Resort the perfect place to stay with your family if you're considering a trip to LEGOLAND®. Set one day aside from your camping trip and follow this itinerary to give you an idea of how to spend a day trip to LEGOLAND®!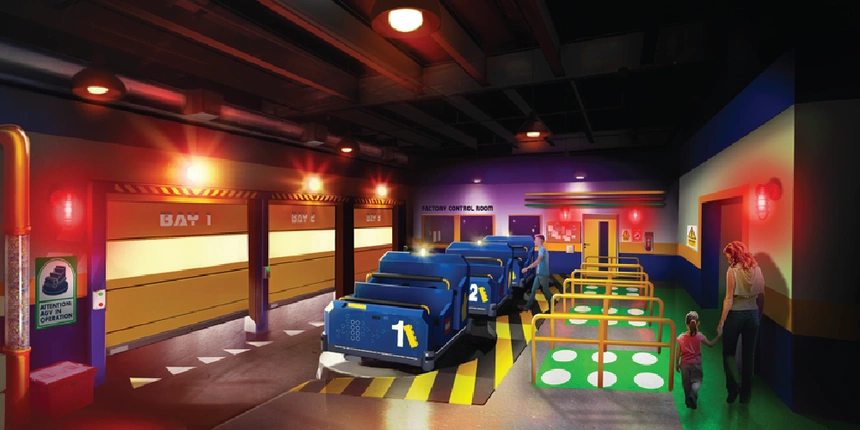 Image by: LEGOLAND® New York Resort
Experience what it is like stepping into the shoes of a LEGO® Minifigure with this immersive ride. Prepare to embark on an enchanting adventure where you are magically transformed into a miniature size, fully immersed in the captivating world of LEGO® bricks coming to life. As you journey through the ride, look at the various LEGO® creations unfolding before your eyes. Feel the thrill of being right in the heart of the action, surrounded by the vibrant energy of LEGO® bricks being meticulously crafted. This unparalleled experience offers a glimpse into the fascinating world of LEGO®, allowing you to truly understand what it means to be a LEGO® Minifigure.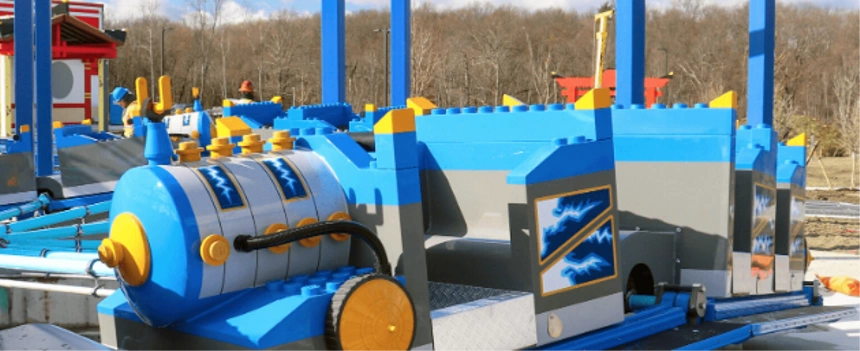 Prepare yourself for the ultimate test of speed and skill as you embark on adrenaline-pumping adventures at LEGOLAND® New York. Whether you find yourself behind the wheel of a cutting-edge Ninjago vehicle or spiraling through a Spinjitsu vortex, be prepared to face the challenge of high speeds and G Forces head-on in your quest to become a true Ninja. Enter the realm of excitement as Jay, the ingenious mastermind, unveils a specially designed training machine that pushes your limits. Climb aboard and brace yourself for an exhilarating experience that simulates the sensation of being propelled at the speed of Spinjitsu. Only those who can conquer this daring endeavor will truly embody the spirit of a Ninja. Get ready to unleash your inner warrior and unleash the power within!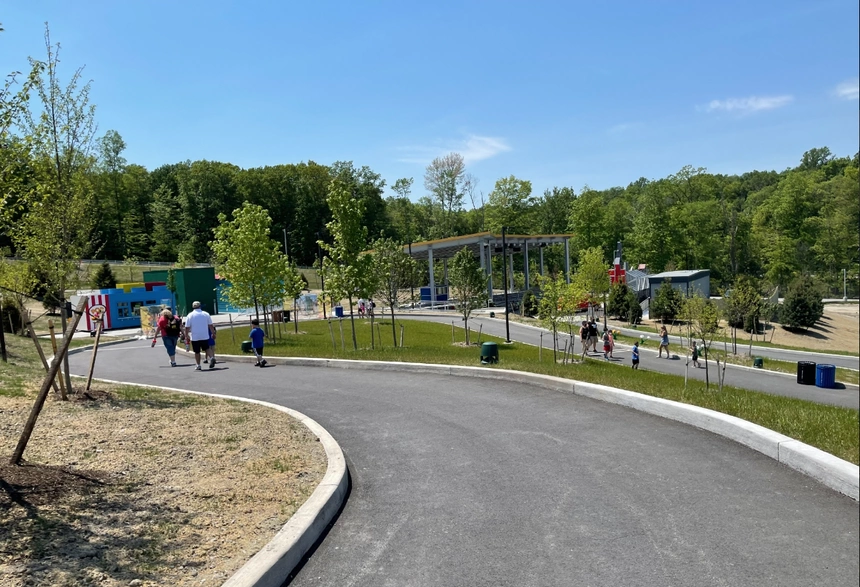 Image by: LEGOLAND® New York Resort
Embark on an exciting adventure through the captivating Nature Maze! Prepare to navigate through a labyrinth of towering hedges, where hidden treasures await your discovery. As you venture deeper into the maze, keep your eyes peeled for an array of enchanting LEGO® models, whimsical LEGO® road signs, and delightful LEGO® flower bouquets, waiting to be found around every corner. Can you showcase your keen observation skills and uncover all the hidden LEGO® elements within this intricate maze? Challenge yourself and embark on a thrilling quest to seek out these delightful treasures. The Nature Maze is a haven of surprises, waiting to be explored by LEGO® enthusiasts of all ages.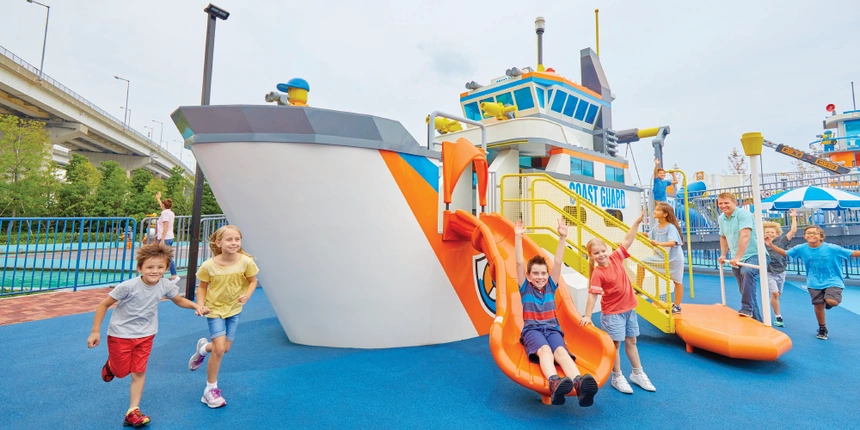 Image by: LEGOLAND® New York Resort
Step aboard the captivating Wharf Playscape and get ready to embark on an exciting voyage filled with endless adventures! Prepare to set sail as you immerse yourself in a world of boundless imagination. Within this vibrant playground, you'll have the freedom to jump, climb, and explore both above and below deck. Engage in thrilling escapades as you navigate through various levels, unleashing your energy and creativity. Whether you choose to conquer the heights or delve into the hidden corners, the Wharf Playscape promises an unforgettable journey filled with fun, excitement, and endless possibilities. So, get ready to chart your course and let your imagination run wild as you embark on this exhilarating nautical escapade!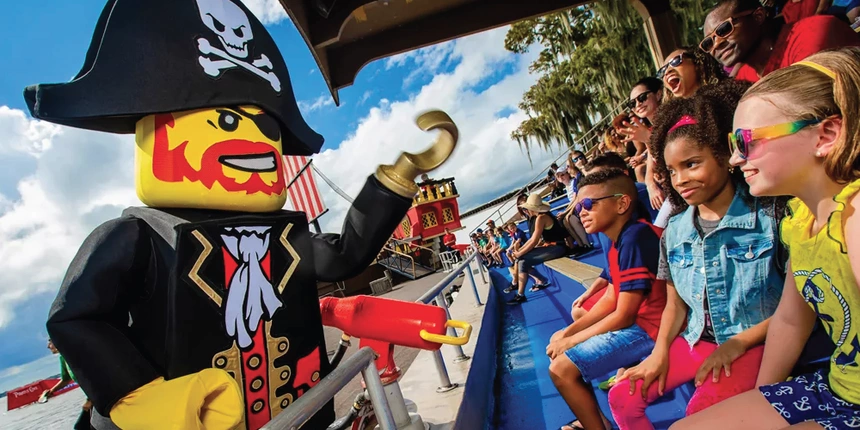 Image by: LEGOLAND® New York Resort
Prepare to join the daring crew as we set sail on a high-seas adventure! Those pesky Blue Coats have cunningly swiped the precious Pirates' Treasure and concealed it within the confinements of their mighty Fortress. It's time to take matters into your own hands! Grab hold of a powerful water cannon as you navigate through treacherous pirate-infested waters. Take aim with precision and unleash your watery onslaught upon unsuspecting spectators and fellow riders. It's a battle of wits and skill as you reclaim what rightfully belongs to the swashbuckling pirates. Defend the honor of your crew, soak your adversaries, and triumphantly retrieve the stolen Treasure! Prepare for an exhilarating quest filled with thrilling water-filled encounters that will leave you drenched in excitement and brimming with triumph!
We hope this list gave you some ideas for the top things to do in the area. After you've spent your fun day away at LEGOLAND®, it's time to head back to your home base at the best family campground in New York - Jellystone Park™ Lazy River! In addition to the many activities at LEGOLAND®, you can enjoy 20+ of our own attractions included in your stay. After you rest up from your exciting day at LEGOLAND®, you can relax at our Water Zone and swimming pools, soar high on our jumping pillows, or unwind with awesome arts & crafts. Don't let the family-fun stop - make it a longer trip and choose Jellystone Park™ Lazy River as your next place to stay near LEGOLAND®!