Take a trip to upstate New York and visit the Hudson Valley! The Hudson Valley is comprised of 10-county region that extends 150 miles above the tip of Manhattan north towards Albany. This unique tourist area offers a variety of things to do for all ages. From brewries and wineries, to art centers and museums, your visit to this region will be one to remember. Keep reading for the best activities, attractions, and places to go while in the Hudson Valley!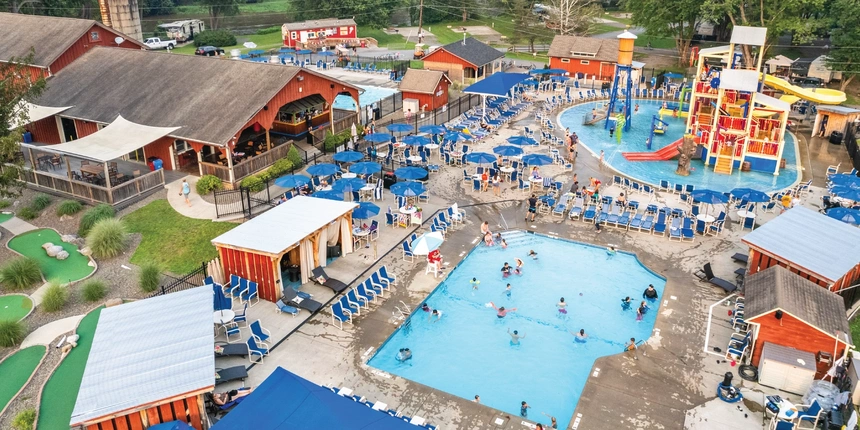 Jellystone Park™ Lazy River
Visit our Camp-Resort for some fun in the sun! Located just 45 minutes away from the city, Jellystone Park™ Lazy River offers the best camping in the Hudson Valley. From the wide variety of accommodations, themed events, and on-site attractions, your family is guaranteed to make lifelong memories. Whether you've never camped before or are a camping connoisseur, Jellystone Park™ Lazy River is the place to visit. You can book your stay online here.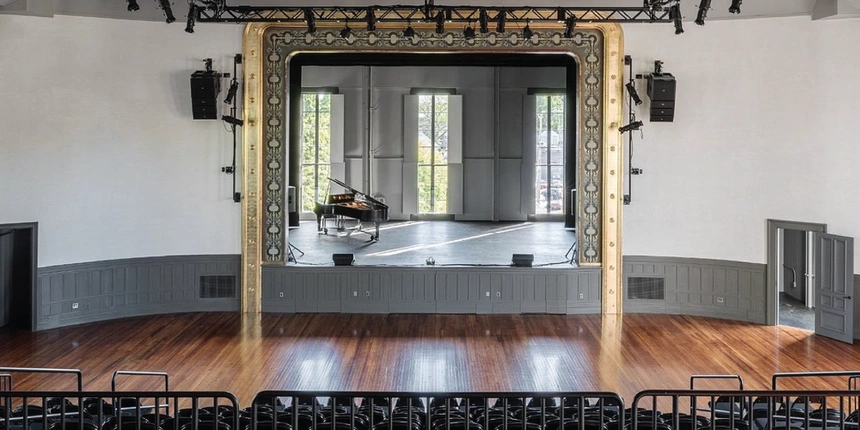 Image by: The Hudson Hall
The Hudson Hall
The Hudson Hall, located in the town of Hudson, NY, is a captivating cultural haven that delights visitors with a year-round feast of artistic experiences. Its vibrant offerings include music, theater, dance, literature, and diverse workshops for both children and adults. Beyond its enchanting performances, this historical landmark stands proud as New York State's oldest surviving theater, providing the local community and global visitors with a rich piece of history. The Hudson Hall warmly welcomes people from all walks of life, providing joy and enlightenment through its captivating artistic expressions. This cherished venue breathes life into the heart of Hudson, becoming an integral part of the town's essence, and offering a constant source of awe and inspiration to all who grace its hallowed halls.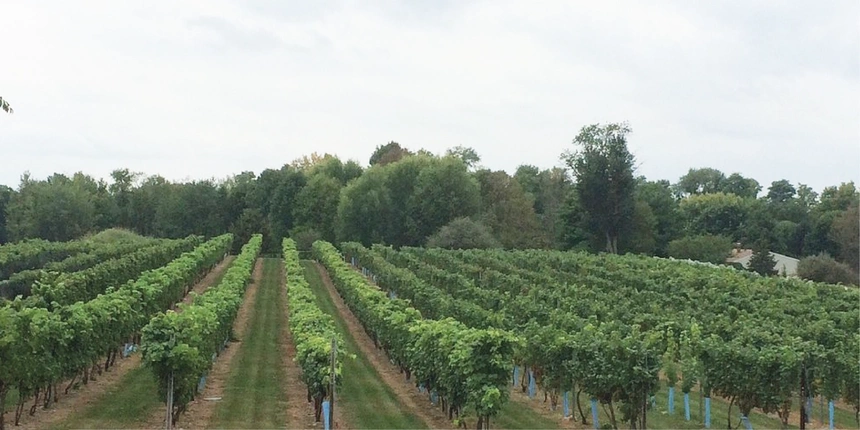 Image by: Clermont Vineyards & Winery
Clermont Vineyards & Winery
Clermont Vineyards & Winery, located in Clermont, New York, is a family-operated business that takes pride in crafting fine wines for every occasion. With stunning panoramic views of the Catskill Mountains, their vineyard spans seven acres, home to approximately 4,000 carefully tended grapevines. While Clermont Vineyards & Winery operates seasonally, they warmly welcome visitors from April through the end of the year, exclusively on Fridays, Saturdays, and Sundays. Stop by and experience the beauty of nature and the delight of exceptional wines while Hudson Valley camping!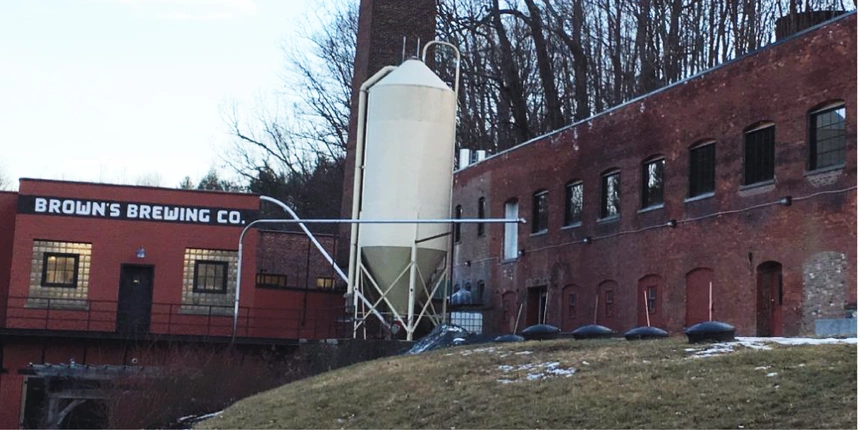 Image by: Brown's Brewing Company
Broom's Walloomsac Taproom & Brewery
Broom's Walloomsac Taproom & Brewery is a beloved family-owned brewery boasting two idyllic waterfront locations that beckon craft beer enthusiasts and food connoisseurs alike. Here, patrons are treated to a delightful fusion of brewed-on-site beer and delectable fresh dishes, masterfully capturing the essence of ingenuity, passion, and innovation that define the essence of Brown's Brewing Company. Embracing the ethos of thinking independently and drinking independently, the brewery warmly extends an invitation to all to savor their exceptional offerings, inviting visitors to join them at the very source of their craft.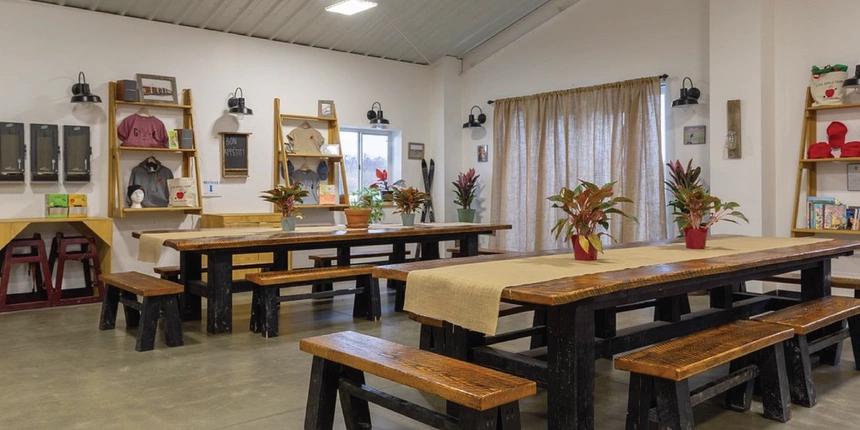 Image by: Love Apple Fram
Love Apple Farm
Established back in 1969, Love Apple Farm, Cafe and Bakery Shop holds a prestigious 50-year legacy as an integral part of New York's thriving Hudson Valley agricultural community. With immense pride, the company has dedicated itself to serving the local community, actively participating in the social movement to provide access to locally sourced fruits, vegetables, dairy, and various other products. This commitment ensures that customers have the utmost confidence in knowing precisely where their food originates, fostering a strong sense of trust and transparency in every delicious bite.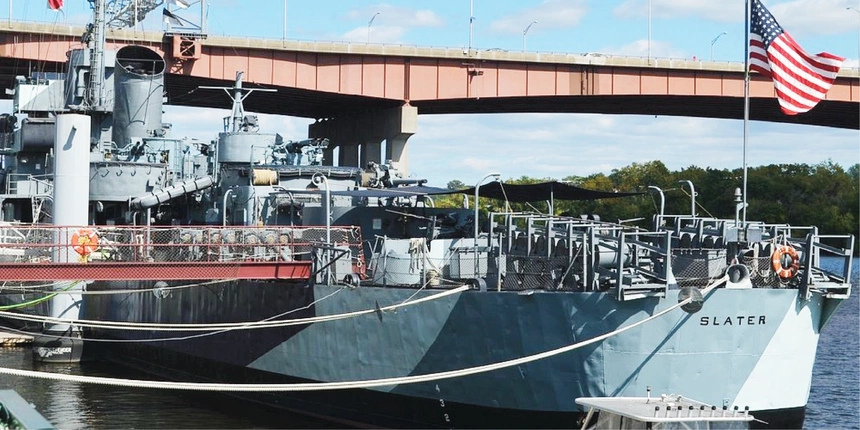 Image by: USS Slater
USS Slater
Amidst the historical echoes of World War II, a remarkable landmark stands as a testament to the courage and resilience of the past. Among the 563 Destroyer Escorts that fearlessly battled Nazi U-boats in the Atlantic and bravely defended naval task forces in the Pacific from Japanese submarines and Kamikaze air attacks, only one remains afloat in the United States—the USS SLATER. Resting on the serene waters of the Hudson River in Albany, NY, the USS SLATER has undergone an extensive restoration, restoring her to the resplendent glory of her heyday. Today, this living museum warmly welcomes visitors to step back in time, offering one-hour guided tours that vividly recount the ship's storied history. For the adventurous at heart, youth group overnight camping experiences beckon, allowing participants to immerse themselves in the living history of the ship.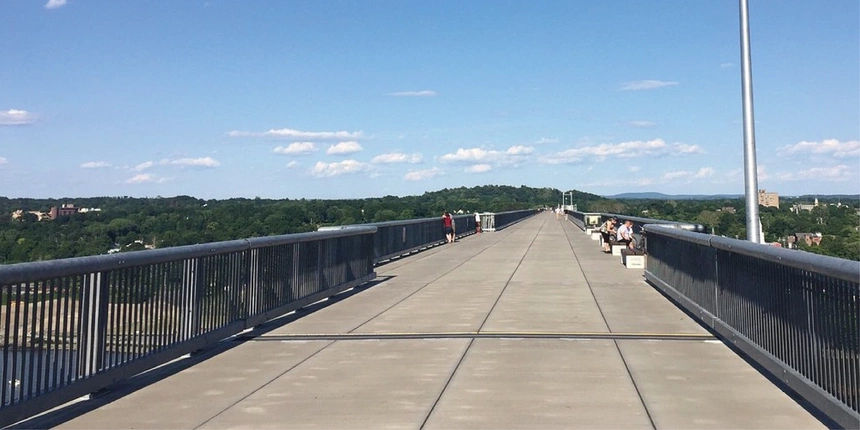 Image by: Hudson State Historic Park
Hudson State Historic Park
The Walkway Over the Hudson State Historic Park proudly boasts the title of being the World's Longest Elevated Pedestrian Bridge, spanning the Hudson River, linking Poughkeepsie and Highland, NY, within the picturesque Hudson Valley. Originally constructed as the Poughkeepsie-Highland Railroad Bridge in 1889, the bridge served as a vital thoroughfare for trains until a devastating fire altered its course in 1974, leading to its closure as a rail line. For several decades, the bridge lay dormant until a community campaign emerged, igniting a transformation that birthed the Walkway Over the Hudson in 2009. Since its inception, this landmark has drawn more than seven million visitors, who come to revel in the simple joys of walking, running, biking, skating, and leisurely strolling while being mesmerized by the unparalleled 360-degree views of the Hudson River and its breathtaking surroundings. Rising 212 feet above the Hudson River, the bridge spans 1.28 miles from gate to gate, seamlessly connecting the William R. Steinhaus Dutchess Rail Trail, Hudson Valley Rail Trail, and Empire State Trail.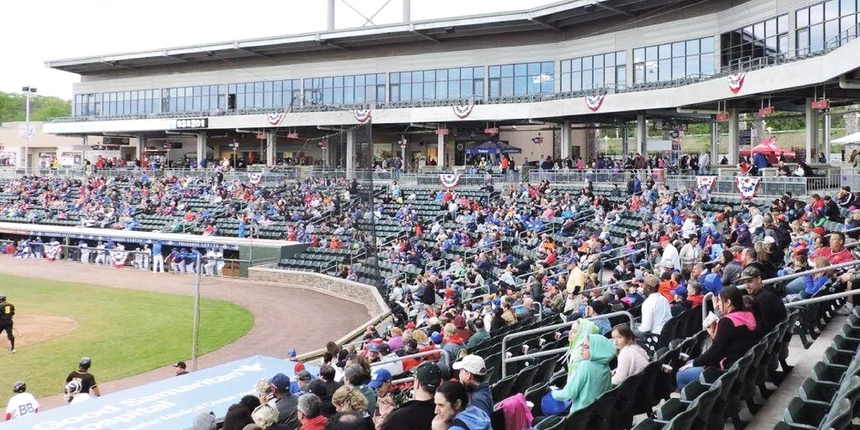 Image by: NY Boulders Baseball
Clover Stadium
Welcome to Clover Stadium, home of the New York Boulders, where they ensure the fan experience is top priroity. Clover Stadium provides a variety of food & beverage options throughout the venue, like their vibrant Bridge Bar, where you can watch the game from their patio. As the team is in the midst of their minor league season, join the locals as they cheer loudly and proudly for their team while visiting our Hudson Valley campground. Go Boulders!
As you can see, there's plenty of things to do in the Hudson Valley for both adults and kids! From enjoying a show at the Hudson Hall and walking over Hudson State Histroic Park, to enjoying a local beer at the Broom's Walloomsac Taproom & Brewery, there is a variety of fun things in the Hudson Valley that are sure to make your trip to Upstate New York memorable. If you're looking for even more fun activities and attractions to try, check out this list for additional ideas. We hope to see you in the Hudson Valley soon!